Malakhim – Black Metal from Västerbotten
Upcoming Shows
2023-12-7–9 Never Surrender Vol. III | Berlin, Germany
2023-11-18 Luciferian Society: w/ Taake, Mephorash, Mortuus & Voodus | Stockholm, Sweden
Past Shows
2023-07-13–15 Gefle Metal Festival 2023 | Gävle, Sweden
2023-06-16–17 Hole in the Svn Festival 2023 | Espenau, Germany
2023-06-03 OUTBREAK: Bewitched & Malakhim | Umeå, Sweden
2020-01-25 Rites of North | Oulu, Finland
2019-10-03 Outbreak of Evil | Umeå, Sweden | w/ Sinmara (IS), Svartidauði (IS)
2019-03-02 House of Metal Festival | Umeå/Sweden
A UNION OF FIRE AND FAITH
We are proud to announce our collaboration with Cult of Chaos for bookings.
For future booking inquiries, please reach out to bookings@cultofchaos.live
Band photo by Void Revelations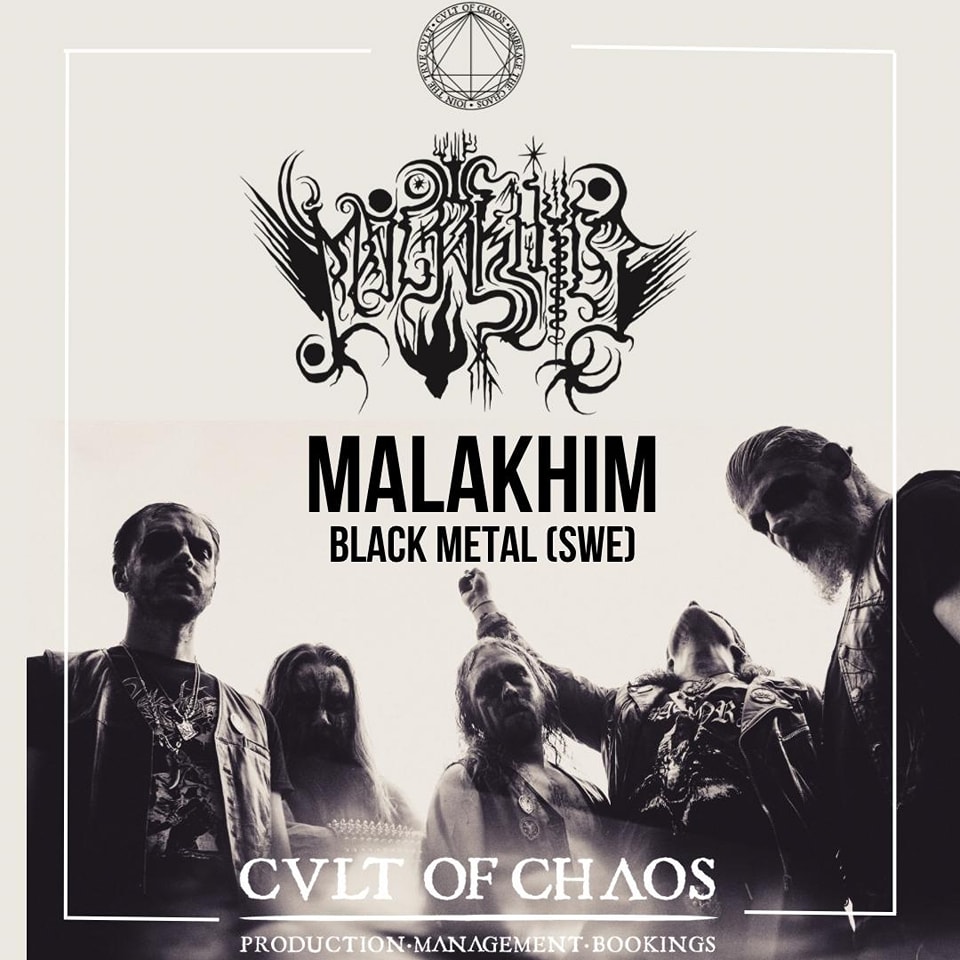 Photo by: M Norman
Formed in 2016 and hailing from Sweden, MALAKHIM's ascent has been meteoric if not patient. First came the band's self-released debut demo, which IRON BONEHEAD then released on CD and vinyl in 2018, furthering the MALAKHIM name and whetting appetites for yet more mastery. Still, for a first recording, Demo I indeed breathed mastery: patiently unfolding vortexes of orthodox black metal with more than a bit of death metalled muscle, all in obeisance to the powers of The Beyond, and coalescing into a fever-dreaming fury of hellish hysteria.
MALAKHIM may've been new in name, but there in fact exists a wealth of experience in their ranks, and that name stands on its own merits. And they swiftly proved that with the four-song/21-minute mini-album II, released during the spring of 2019 via IRON BONEHEAD. No great changes took place in MALAKHIM's iron-clad sound, but the quintet continued to flesh it out in bolder, more Beyond-pushing shapes. Anticipation for a debut full-length hit a fever pitch, and understandably so.
At last, it arrives in the form of Theion. Immediately and mesmerizingly sounding like the MALAKHIM of the past two short-lengths, Theion strikes with precision and purpose, clarity and crush. One could say, quite rightly, that the album is the pinnacle of orthodox black metal for the rest of the 2020s and leave it at that – and that one would be right. Yet, step deeper into Theion and find a majestic-yet-malevolent melodicism that harkens back to the ancient days of No Fashion and Solistitium; just as equally, that melodicism twists in unexpected ways, exuding a modernity that's palpable, palatable, and exceptionally multi-faceted. Likewise, the quintet's songwriting explores all reaches of the sonic spectrum, from slipstreaming speed to rumbling repose – if anything, their aggression has gotten altogether nastier – and all is encased in a richly 3D production that's professional and powerful, dynamically detailed but without losing any urgency. Or, simply, the sum effect of Theion could be personified in the song title "The Splendour of Stillborn Stars"…
Suitably, the album is graced with evocative cover art courtesy of Mitchell Nolte. Rejoice, rejoice! The hammer of Satan is falling, and the empire is crumbling: in its place stands the towering monument of MALAKHIM's Theion.
Graphical Artists for THEION:
Gefle Metal Festival 2023 | Gävle, Sweden
Hole in the Svn Festival 2023 | Espenau, Germany
OUTBREAK: Bewitched & Malakhim 2023 | Umeå, Sweden
Rites of North 2020 | Oulu, Finland
Outbreak of Evil 2019 | Umeå, Sweden
House of Metal festival 2019 | Umeå, Sweden